Welcome to Paris-Gare de Lyon !
Dear visitors, you'll find on this page some useful information about the Gare de Lyon railway station.
Located in the east of central Paris, served by regional trains, high-speed TGV trains to south & eastern France and a number of destinations in Switzerland, Italy and Spain, Gare de Lyon is one of the busiest railway station in Europe.
Orientation
Gare de Lyon contains two groups of platforms : Hall 1 (tracks A-N) and Hall 2 (tracks 5-23).
The below surface Hall 3 is a concourse which allow access to all platforms by stairs or escalators.
Check monitors for information about departures and arrivals.
Platform number is displayed 20 minutes before train departure.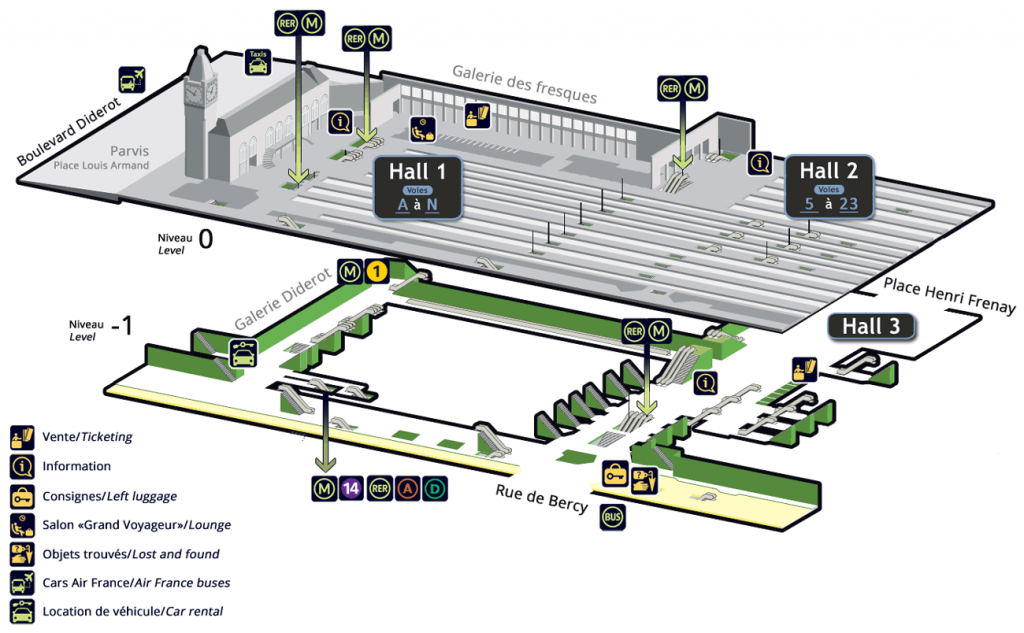 Services & facilities
• Train tickets & information
Ticketing offices can be found in Hall 3 & Galerie des fresques (between Hall 1-Hall 2).
Information booths as well as self-service ticket kiosks are available through the railway station.
• Car rental (Avis, Budget, Sixt) proceed to Galerie Diderot below Hall 1.
• Left Luggage (automatic lockers) proceed to Hall 3 (beside Lost and found).
Open everyday 06:15-22:00, storage prices depending on size, from 5€ to 9,50€/24h.
• Lost and found service can be found with left luggage in Hall 3, open weekdays 09:00-17:00.
Email: pgl.acds@itiremia.fr
• Police proceed to Hall 1, close to platform N, open everyday 06:30-22:40.
• Tourist information proceed to Hall 1 in front of platforms L/M, open from monday to saturday 08:00-18:00.
Transportation
Metro/RER
Gare de Lyon station is served by Metro lines 1 + 14 and suburban trains RER A + D.
Follow M (for Metro) or RER signs to access the station.
To mainline trains follow Trains grandes lignes indications.
Tickets can be purchased at any RER or Metro station.
The single ticket price for a journey within central Paris (zone 1) is 1,90€.
Travel beyond Paris zone 1 on the RER requires a special ticket, prices are determined station to station.
Bus
Gare de Lyon is served by many RATP Bus routes :
– 29/57/61/91 : stop located boulevard Diderot.
– 20/24/63/65/87 : stop located rue de Bercy.
Taxi
A taxi stand can be found outside the railway station.
The journey within central Paris costs between 8-20€
Le Bus Direct
If you need to connect to and from Charles de Gaulle airport you can use Le Bus Direct (route 4).
Proceed to boulevard Diderot (in front of the railway station).